The Legend of "The Weekend Meltdown"
There was never a dull day at Trinity Christian School - a small, private school in Rock Hill, S.C. - due to our class's lively conversation which sometimes usually annoyed people around us. The conversations debates were usually interesting, many times heated, sometimes pointless, but still served the purpose of entertaining us during the countless hours we spent around each other in school (because we weren't doing much else ;-P ).
Even though we were goofing off, we all grauated in May, 2004 with 14 people - one of the largest classes for several years before and after.
After graduation, we all went to different colleges. Ryan Waldroop went to Winthrop University; Matt Watson went to Charleston Southern University for his freshmen year and transferred to Winthrop; Spencer Neal went to Clemson University for his freshmen year and also came back to Rock Hill (first, York Tech; then, Winthrop); David Taylor went to Appalachian Bible College and also ended up back in Rock Hill, taking classes online from Liberty University.
Upon our return, (except for Ryan, who as you recall, never left) we realized that the conversations we were having were not much different than those in high school...many of them were, in fact, were left over FROM High School. Because the dialogue was still just as energetic, we became interested a radio station/show at first. Later, we discovered the joys (and fears) of podcasting.
So here we are each of us back in town (yeah, I know, except for Ryan...) and hosting a (usually) weekly podcast where we carry on those same kinds of (and some of the same exact) lively conversations that we always had in High School. We meet at Spence's house about once a week and converse candidly about various issues that interest us - from News and Politics to Technology to Sports and more. Our hope is that these conversations will interest you as well.
Thank you all so VERY MUCH for listening,
Ryan
,
Matt
,
Spencer
, and
David
Pictures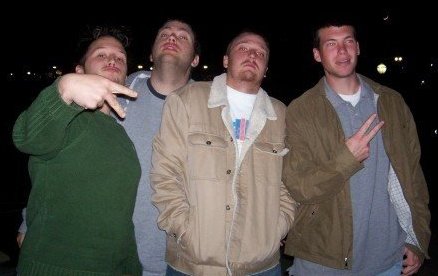 From Left: Spencer, Ryan, David, and Matt pimpin' at Chili's after Angie's party.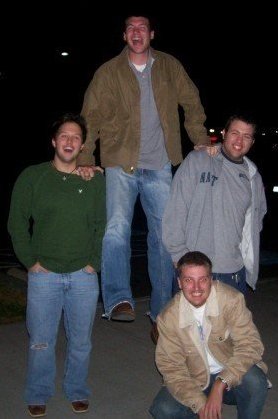 Here we are again, goofing off as usual.



The guys working diligently pretending to work on the podcast.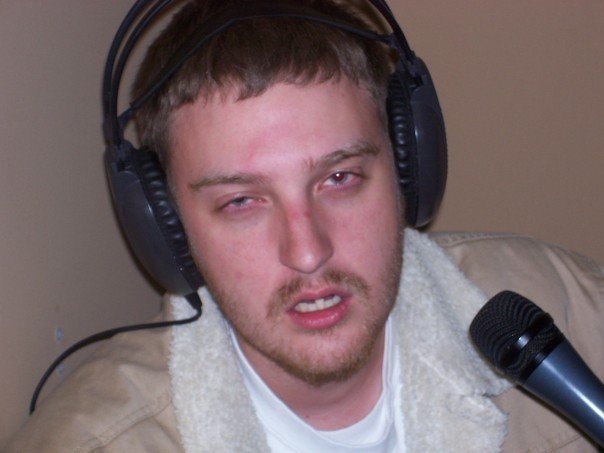 Here's David after Ryan threw a plastic bottle at him.